Next Friday there is a milestone in the history of EOI devoted mission towards building a more open and sustainable economy (Plan 2020). We have the honour of inviting Joi Ito, Director of MIT Media Lab and Chairman of Creative Commons, to present the Spanish version of The Power of Open, a free book that celebrates a decade of free sharing through CC open licenses and collects more than thirty success case projects using them. According to the book, there are more than 400 millions of works in Internet with CC licenses, a number that shows the great potential of the open movement in the world.
PRESENTATION OF THE POWER OF OPEN

When: Friday, 8th at 10:30h

Where: EOI Madrid, Avda. Gregorio del Amo, 6. 28040 (map)

Who: Lisa Green and Joi Ito from Creative Commons
Guest speaker: Javier de la Cueva, Spanish laywer and expert in intellectual property (he handled the defence for Ladinamo, the first ruling ever to acknowledge Copyleft).
The event will take place at our gorgeus garden. It is open to the public but please do confirm through this form, so we can have an estimation of the number of people expected to come and being able to arrange the seats.
There are many projects in EOI going on showing on our commitment to open knowledge, economy and society. Openness is embodied in the mission and vission of our School, from the topics we teach (Master on Sustainable Development or Master of Digital Economy for example), to the methodology we use (design thinking + mobile learning + blogs + google apps + social networks) but also for the technologies we build on (android, wordpress, moodle, liferay, fedora, etc.) and the way in wich we create and disseminate contents with CC licenses (see our open access repositories for books and videos, very much inspired in the spirit of MIT of course).
But openness is more than tools and contents, it is the culture of digital and the culture of sharing as Isaac Mao told us a few months ago during his visit to EOI. In other words, the culture of free souls in terms of Joi Ito.
These are the values of Open Economy that we want to help to build and reinforce through our teaching and research at EOI Spain´s School for Industrial Organisation.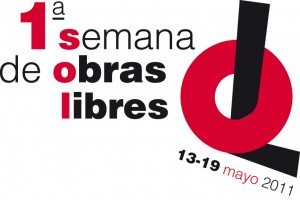 These are the values behind activites like the #SOL1 Semana de Obras Libres (Open Works Week) that we hosted a few weeks ago with CC bands playing in the garden, debates among Jamendo and SafeCreative, workshops about DIY hardware or screenings of open licensing videos. These are also the values of having frequent calls to create collaborative lists of free music or pictures. Ultimately, these are the values of creating a better world by opening our code, sharing our talent and collaborating together.
Next Friday we have the party of open sharing. Come and join us!

As I said before, on Friday we will present the Spanish version of the book The power of open. I have to say that there are not much tasks I´ve done with so much joy. Volunteering for proofreading and editing the Spanish version, with the kind help of Lisa and Ignasi Labastida, has given me the opportunity to deep into the book and feel closer to this huge community of open sharing knowledge. We are proud of supporting CC values and bringing them everyday to the classroom.