Typhoon Haiyan that battered the Philippines in November 2013 provided the United Nations Framework Convention for Climate Change (UNFCCC) in Warsaw with a suitably sober context upon which to build discussions.  While the effects of Haiyan are still being assessed, the typhoon left thousands dead.  It has been reported that the lives of over 11 million people were affected by Haiyan, causing some 673 000 people to become displaced.  Links have already been made to the effects of climate change on the severity of the storm.  By 2100, average global temperatures are expected to have increased by at least 4 degrees; many have predicted that in the future extreme weather events will increase both in frequency as well as intensity.   In the context of the Philippines and other countries whose existing resources are not able to cope with environmental disasters, dealing with the massive social and economic effects of this is possibly one of greatest challenges they will face in the decades to come.
A study undertaken by the World Bank – Economics of Adaptation to Climate Change (EACC) in 2009 estimated that the price for developing countries to adapt to climate change will be between 75-100 billion USD per year between 2010 and 2050 which equates to 0.2% of the GDP of all developing countries.  Case studies were presented in seven different countries, all of whom could be considered vulnerable to extreme weather events.  The study found that economic capabilities were of great importance to the reaction to natural disasters stating that the alleviation of poverty was the single most important factor.  It also highlighted adaption strategies that could be adopted by poorer regions, however stated that these should be undertaken carefully prioritising initial "low-regret" options over larger scale investment which, according to many calculations, unless correctly planned and suitably allocated would not provide adequate protection.
The findings of this report are closely related to one of the outcomes of the latest UNFCCC conference.  It was decided in Warsaw that a "loss-damage" mechanism would be drafted.  The original aim of this was to form a new branch alongside mitigation (such as to set targets to cut emissions) and adaptation (advanced preparations for climate change).   The loss-damage mechanism would aim to provide extra funding to bear the costs of countries that struggle to cope with the costs of extreme weather phenomena resulting from climate change.  This also acts as an admission that human action is very likely has a direct influence on climate change.  The mechanism was agreed upon during the last day of the conference with talks extending until late in the evening.  However, there was disagreement over awarding the mechanism the status of a separate branch.  Negotiators finally agreed on the content of the mechanism however it was decided that this would fall under the umbrella of "adaptation".
This fell short of expectations of developing countries and environmental campaigners alike: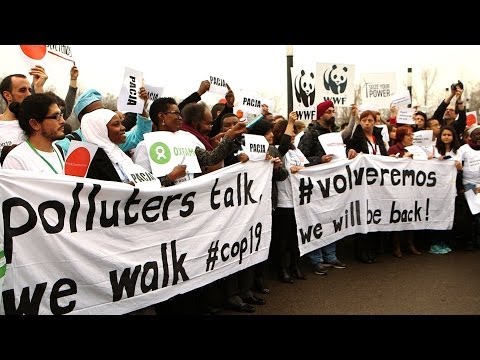 Developed countries, particularly the USA, argued that a loss-damage mechanism belonged under the mandate of adaptation. They claimed that adaptation measures are essential in order to prevent wide-scale loss and damage. Critics on the other hand pointed towards a market-failure: developed countries are failing to admit responsibility for their negative externalities and by doing so have ensured that the notions of compensation and culpability have been discarded.
Naturally, developed countries are the largest emitters of greenhouse gas emissions.  Low lying islands and countries in the developing world consider themselves to be disproportionately affected by climate change due to the threat of rising sea levels.  Many have been campaigning for years for an introduction of a loss-damage mechanism and argue that when people's livelihoods stand in balance or they have to leave their homeland unwillingly then this cannot be classified as adaptation.  It is feared that by doing so, focus will be disproportionately placed on preventative measures and not on mobilisation of resources to crisis areas. As the effects of climate change are already clear, many argue that an independent loss-damage mechanism is crucial in order to ensure an efficient and adequate provision of funding.
The Warsaw conference once again showed that there are clear tensions between developed and developing nations.  Countries such as Japan and Australia, who revised their emissions targets, were harshly criticised.  In the wake of the destruction of Haiyan, forecasters warn that the Philippines will experience an increase in the number of fierce typhoons.  On average 22 typhoons affect the country per year, this year Haiyan was the 24th.  With damages also increasing year on year (average 220 million USD / storm), the development of a loss and damage strategy and application of this seems to be more important than ever.
References:
http://www.worldbank.org/en/news/feature/2011/06/06/economics-adaptation-climate-change
http://documents.worldbank.org/curated/en/2010/01/16436675/economics-adaptation-climate-change-synthesis-report
http://www.spiegel.de/international/world/warsaw-mechanism-a-move-forward-in-climate-change-debate-a-935931.html
http://www.theguardian.com/global-development/2013/nov/20/climate-talks-walk-out-compensation-un-warsaw